When preparing for a fishing trip, getting your gear in order. It's easy to get stuck in the fly selection phase. What boxes should I bring? Which one of these flies will actually catch something? I've found myself several times just dumping all my fly boxes in my backpack. Just to be on the safe side. But then you start to wonder. Did I miss a pattern? Is everyone else using some awesome pattern and am I a fool for not bringing it? To help remove those doubts we compiled a list of the most popular trout flies. This is flies that has a proven record and is easily available.
The best dry flies
When different insects hatch, they will swarm over the surface. This is when the trout rises to the surface for a feeding frenzy. Fishing with dry flies is super exciting and when the conditions are right it's also very effective. Hardcore dry fly fishers often refer to matching the hatch, which means they are trying to use a pattern as similar as possible to the insects on the water.
Parachute Adams
This is a fly that deserves to be in every fly box. The Adams Parachute Dry Fly is a versatile dry fly and has become recognized as a popular pattern on trout rivers around the world.
There are many attributes to the Parachute Adams but most of its legendary status are due to its unique ability to imitate the numerous members of the mayfly and caddis families. If no hatches are present on the water the Parachute Adams can be equally successful as a searching pattern.
Elk Hair Caddis
The Elk Hair Caddis is a common dry fly pattern. It was first created by Al Troth in Pennsylvania in 1957 for fishing trout in Loyalsock Creek. Troth is said to be a pioneer of the sport of Fly Fishing because of his extremely useful and broadly used Caddis Fly pattern.
Check the price on amazon or check our tying instructions
Griffiths Gnat
Midges might be small but at times, it can make up most of a trout's diet. Griffiths gnat is a well tried and easy to tie pattern.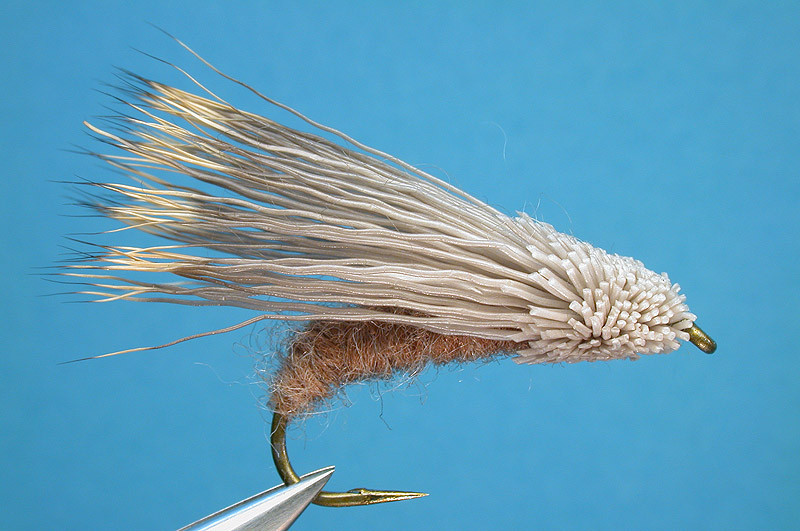 Streaking Caddis
The famous Streaking Caddis. A caddis pattern that works in almost any situation that I certainly would not leave my house without. The great thing about this fly is that you can fish it in so many ways. Let it drift on the current, let it lie still or receive it with powerful fast jerks. The possibilities are endless.
Klinkhammer
This is a very popular trout and grayling fly in Europe and now breaking ground in the US. It was invented by the Dutch angler Hans van Klinken and was originally named LT Caddis but is now officially know as Klinkhåmer Special. It's a great searching pattern and the thing that differentiates it from many other parachute flies is that the thorax hangs down below the surface to imitate an emerging insect.
Europea 12 (E-12)
It's a true European classic, a great caddis imitation and even easy to tie. It's a good caddis imitation but the fly can be a bit fragile. A common variation includes CDC under the wing.
Quill Gordon
One of the most popular Catskill dry flies. The quill body shows a well-defined rib of color, which is a feature of certain natural flies, and an effect not easily rendered in any other manner. The Quill Gordons hatch all over the US at different times of the year so it's always good to have a few on hand.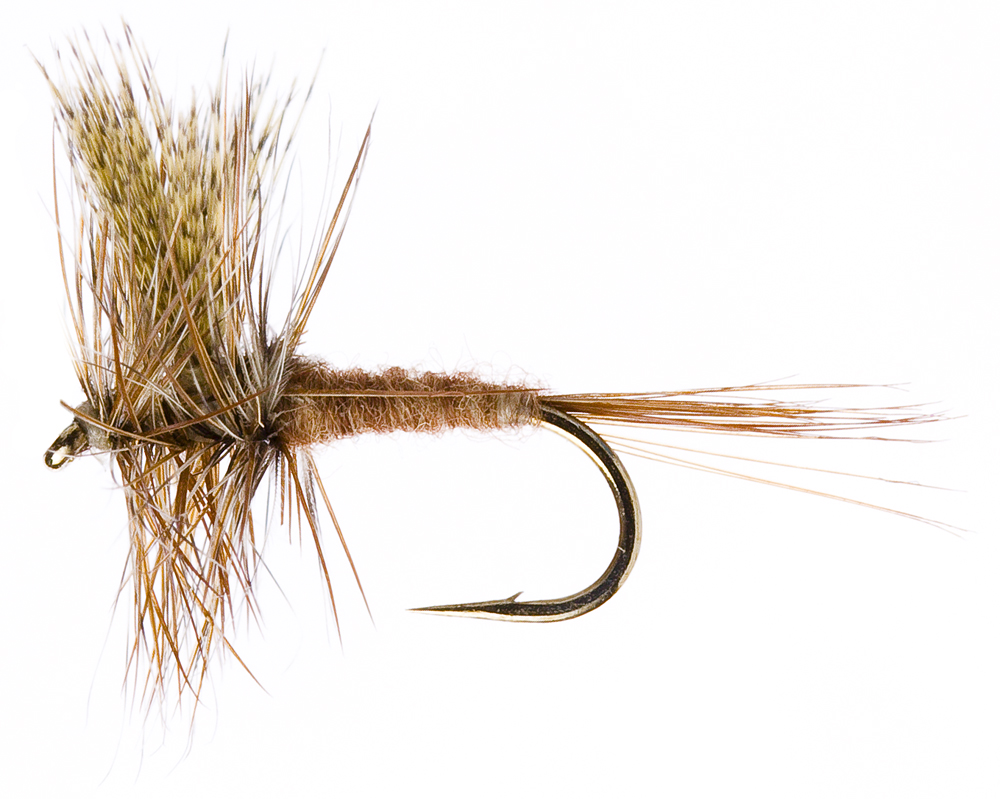 March Brown
The March brown, if you want to get specific, imitates the March brown mayfly, no surprises there but it's a good search pattern even if other insects are hatching.
Going to the bottom with nymphs
While dry fly fishing is very fun, most of the time the fish feed below the surface and you need to get some depth with your flies. This is where nymphs come into the picture. These often weighted flies imitate spawning insects on the bottom of the lake or river.
Gold-Ribbed Hare's Ear Nymph
The gold-ribbed hare's ear is one of my all time favorites. It's just an amazing nymph that will work in most conditions. When this fly is immersed, the stiff fibers in the dubbing stand out and imitate the legs of an insect.
Pheasant Tail Nymph
This nymph has it's roots in Southern England where it was originally tied by Frank Sawyer. It might be the most versatile mayfly nymph ever created!
Prince nymph
In the past fifteen years or so has become a 'go-to' pattern for many anglers across the country. It's usually said to imitate a stonefly but I've seen this fly work under so many different hatch conditions, from mayflies to caddis, that I think I would be safer to lump it into the attractor nymph category.
Psycho Prince
You can turn over 1,000 rocks in any river, and you'll never see any bug closely resembling a Prince Nymph. But that sucker works. Now, how do you kick that pattern up a notch? Add an orange belly, or purple body color. It doesn't matter what you're chasing - marlin, bass, trout, tarpon, whatever - for some reason, in certain conditions, the color purple triggers the senses of fish in certain ways that produces results, even during the toughest bites.
Rainbow Warrior
The Rainbow Warrior will probably be the flashiest nymph in your box. This little fly really grabs trout's attention and can be the perfect attractor when nothing else seems to work.
Back to the roots; Wet flies
Nowadays you don't see as many wet flies used due to nymphs beings so popular and easy to tie. But these more classical patterns have worked since the beginning of fly fishing and should not be disregarded easily.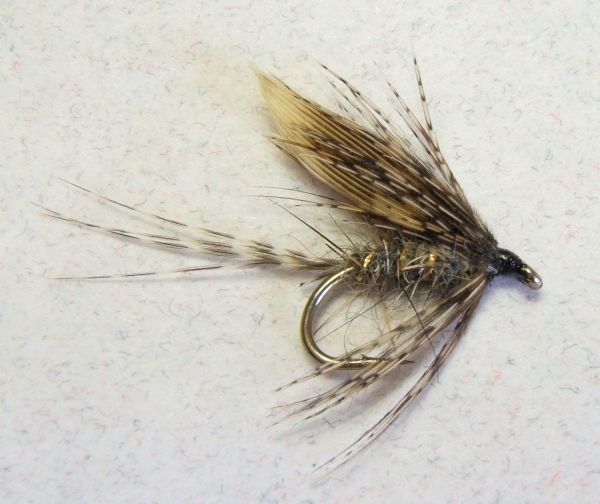 March Brown
A very, very traditional style of fly, the winged wet is the classic wet fly. Primarily designed to act just in or underneath the surface film, whereupon they are commonly thought to represent the hatching fly the winged wet can prove a valuable asset to many an angler's collections. This fly, just like the dry version of the March Brown was originally intended for March brown hatches but has a record for other species as well.
Partridge & Orange
Sometimes the simplest patterns are among the best on a stream. In my opinion, soft hackle flies fall into that category and probably the best known soft hackle is the Partridge & Orange. It has its roots set firmly in English angling history and is an impressionistic pattern fished successfully during caddis and stonefly hatches; and amongst other occasions, during spinner falls. The Partridge & Orange is traditionally a trout and grayling pattern but should be considered for small course fish species and various panfish.
Gold Ribbed Hare's Ear
Almost as amazing as the nymph version with the same name. This classic wet fly has yielded my many trouts throughout the years. This fly works best as a Caddis or swimming mayfly imitation.
Royal Coachman
This is a classic dry fly and one of the world's most well-known patterns. It was first tied in 1876 by John Hailey, a professional tyer living in New York. He altered the original British Coachman pattern by tying a small band of silk in the middle. He also added a tail of barred wood duck feathers. The Royal Coachman Dry is an attractor pattern, meaning that does not imitate any specific insect or prey
##Streamers
Bigger fish likes bigger food. Streamers often imitate different types of baitfish which are a huge source of nutrients for hungry trouts.
Woolly Bugger
What can we tell you about the woolly bugger? It's a pattern you should already have in your box. If you don't, it's about freaking time! It's just an amazing pattern. The marabou provides great movement and the fly is built in a way it can imitate everything from leeches to baitfish.
Bunny Leech
If the Woolly bugger is not enough and you want even more leech goodness, you should definitely check out the Bunny leech. It's a bit bigger which is perfect when you are looking for bigger, meaner trout. The key to its success is the rabbit fur which has crazy movement once in the water.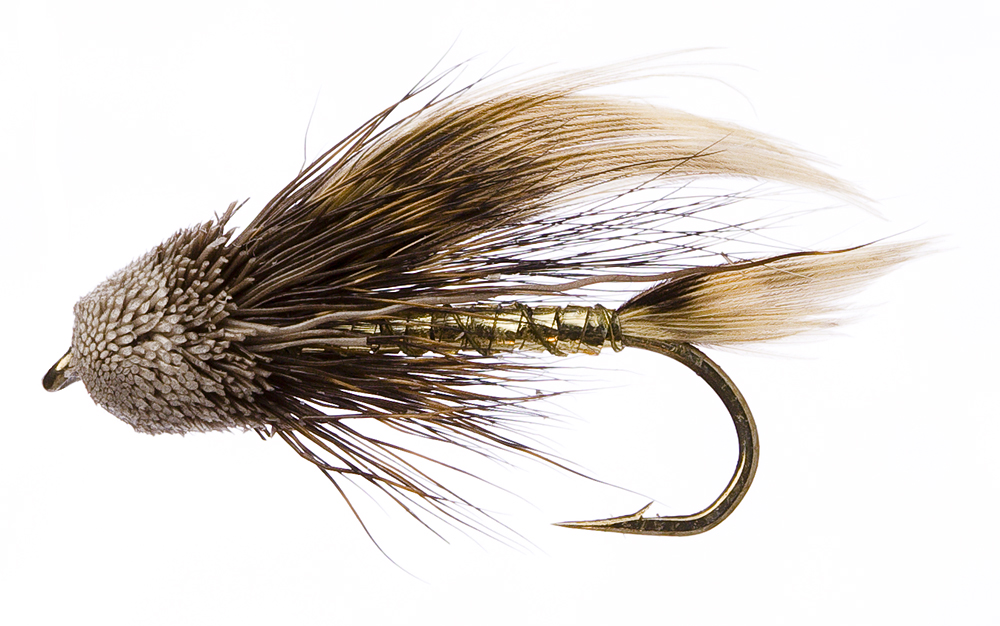 Muddler Minnow
A more classic streamer pattern that has many trouts to its name. The primary focus is to imitate a sculpin. But if you want to tie it yourself, you may need some practice.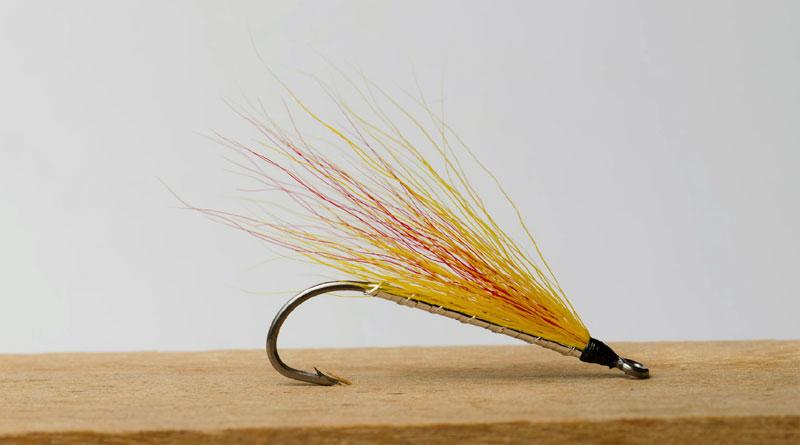 Mickey Finn
It's one of those flies that seems to be able to catch almost anything and has been responsible for catching browns, rainbows, salmon, bass and many more species.The fly is simple: a silver tinsel body and a wing made of yellow, red and yellow bucktail. Nothing fancy and no exotic materials, but still a fly with class and beauty like few others.